Reena De Asis is a marketing professional specializing in social impact work with MacGyver-like ingenuity. Purpose-driven, she brings people together and leverages the strength of communities.
Reena embarked on her journey as a change agent in the Philippines. As a young girl she was nurtured by her grandmother, a traditional medicine woman. She honors her by living a life of service.
Her calling took flight before her career as an avid volunteer since high school, having participated in and spearheaded numerous service projects. Fast-forward to today, as an empowered woman, she champions partnership building, community relations, corporate social responsibility and organizes socially conscious campaigns and events for the past fifteen years.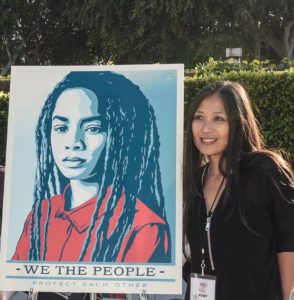 She has worked with the City of West Hollywood, Farmers Insurance, ZipRecruiter and more to achieve each client's strategic goals.
Prior to her present enterprising ventures, Reena was formerly the executive director of Dress for Success Worldwide-West, an international nonprofit focused on empowering women to achieve economic independence. Before that, she held the role of director of marketing of Causecast, a social enterprise. Previously, she was the director of marketing and corporate relations of L.A. Works, a HandsOn Network volunteer action center.
Moreover, Reena was an honoree of L.A. Biz's Women of Influence and the Los Angeles Business Journal's Women Making a Difference. She was also awarded the YWCA Women of Achievement Silver Medallion and the President's Volunteer Service Award.
A thought leader in her field, she has contributed written work in CSRwire Talkback, Forbes, Huffington Post, Environmental Media Association, Elephant Journal, and MariaShriver.com.
She studied Communications: Public Relations with a minor in Human Services at California State University, Fullerton, graduating cum laude.
She is a board member of the CSUF Alumni Association's Nonprofit Professional Chapter and encourages students to prepare for and seek out careers in nonprofit and service fields.
As an advocate for empowering women, homeless and the underserved populations, she is an active volunteer. When she's not cultivating relationships, you can find her immersed in live music and embracing a lifestyle of health and sustainability.
Creative with duct tape or a paper clip combo, the concept of "Another day, a whole another set of possibilities," is music to her ears!